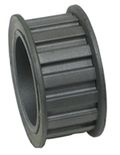 Features
Positive--Slip Proof Positive grip of belt teeth with sprocket grooves eliminates slippage and speed variation
No Lubrication Absence of metal-to-metal contact eliminates the need for the cost and nuisance of lubrication systems
Wide Capacity Range The load capacities of synchronous belt drives range from subfractional horsepower to 600 HP and up
Constant Angular Velocity Speed is transferred uniformly without chordal rise and fall of the pitch line
Compact Design Small sprockets, short centers, narrow belts, high capacity -- all inherent features combine for a reduction in space requirements
Minimum Backlash Advanced design reduces backlash between the teeth and stock belts and the grooves of stock sprockets to a minimum
High Efficiency Inherent friction elimination, lack of high tension, and thin belt construction translate into high efficiency
Light Weight High horsepower-to-weight ratio
Economical Operation No motor bases, lubrication systems or tensioning devices required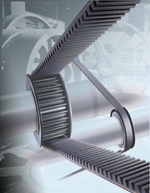 Features
Delivers 50% more HP capacity than standard construction high torque drives
Allows for use of smaller, lighter weight sprockets
Provides a more economical solution than standard high torque
Tensile Members Helically wound, "EXTRA STRONG" fiberglass cords are chemically treated and designed to assure superior length stability, maximum flexibility, and high tensile strength for shock loads.
Teeth and Backing Teeth are molded integrally with the backing that protects the tensile members. Both are manufactured from premium quality, synthetic, neoprene rubber that provides exceptional resistance to heat, oil, ozone, and flex fatigue. Precise tooth formation and accurate spacing permit smooth, uniform transmission of power with resistance to tooth jump and shear.
Wear Jacket The self-lubricating, nylon cover fabric construction is the key to the belt's outstanding horsepower and torque rating. It not only assures maximum drive efficiency but provides exceptional resistance to tooth wear and shear from friction.
Dual Drill Many sprocket sizes are drilled for both inch and metric hardware.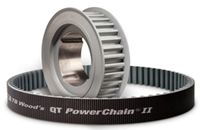 Features
8mm Pitch, Drive combinations: 66,600+, Speed Ratios: 336
14mm Pitch, Drive combinations: 51,500+, Speed Ratios: 500
Operating Temperature Range: -65°F to +185°F (-54°C to +85°C)
QT Power Chain® Synchronous Belt Drives
---
Features
8 mm and 14 mm pitches
Transmit more horsepower per inch of belt width
Wide range of sprocket types for virtually every application