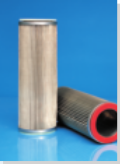 RETINOX
regenerable pleated filter element
RETINOX filter cartridges are manufactured from pleated stainless steel wire mesh media and a stainless steel core sealed to ends by resin. Retinox filter cartridges can be regenerated by backwashing and cleaning; version with drainage media is available.
Main Applications are:
Filtration of potable and process water
Filtration of paints, resins and adhesives, soap, wax and all the high viscosity fluids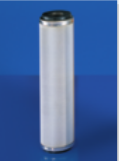 SOLINOX
regenerable filter element
SOLINOX cartridges are constructed entirely in stainless steel, with a fine stainless steel mesh wrapped around a stainless steel inner core and welded metal end-caps; no glues or resins are used in the construction. SOLINOX cartridges are cleanable and regenerable; they have a very high mechanical resistance up to differential pressure of 2 bar and can withstand extreme temperature from -30°C to +300°C.
Typical Applications Include:
Corrosive fluids, high temperatures viscous liquids, liquefied gas and steam
Viscous liquids with high differential pressure drop
Elements that need no fiber presence
Filtration support for precoat filtration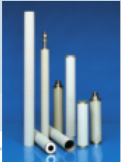 PORAL INOX
Stainless Steel Seamless filter element
PORAL INOX regenerable elements are manufactured from a sintered stainless steel seamless tube with controlled porosity. Ends welded by TIG process are available with a wide array of fittings including flatgasket, threaded and bayonet connections. PORAL INOX elements are versatile and extremely robust.
Typical applications include:
Filtration of liquids
Gases
Steam and corrosive chemicals

STEELPORE
Stainless Steel filter element
STEELPORE pleated cartridges are 100% stainless steel. The filter media is a sintered stainless steel microfiber, support by a wire mesh with welded end caps.
All the cartridge components are precision TIG welded. Steelpore cartridge are able to resist high temperatures and differential pressure and are backwashable and steam cleanable.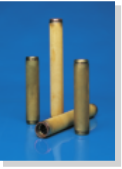 OXOPOR
oxygen filter element
OXOPOR porous sintered bronze filter elements ae specifically designed for high pressure oxygen gas filtration. Oxopor elements, manafacuted from non-sparking materials, are designed to be easily cleanable and to achieve extremely long service life.
Main features of this filter elements are
Usage of oxygen compliant material
Degreasing of all components before and after assembly
Collapse pressure above 100 bar