Mouvex เป็นผู้ผลิต Positive Displacement Eccentric Disc Pumps, Peristaltic Hose Pump, Screw และ Vane Pump ที่ใช้ในอุตสาหกรรมทั่วไป
Mouvex produce positive displacement pumps such as eccentric disc pump and peristaltic hose pump, screw and vane compressor for transfer of liquids and dry bulk products. Mouvex serve refined fuel, oil field, energy, food and sanitary, chemical, military and transport market.
Mouvex provide Eccentric rotary disc pump. This disc is driven by an eccentric bearing that is installed on the pump shaft, thus creating four distinct pumping chambers that increase and decrease in volume as the disc is rotated by the eccentric bearing. The four chambers produce both suction and discharge pressures as the chambers move in pairs that are 180 degrees apart. This ensures that the fluid passes through the pump at a constant and regular flow rate.
Micro C Series
The Micro C Seriess Seal-less Eccentric Disc Pumps are designed for continuous transfer low-flow metering. They deliver consistent performance and are minimally affected by fluctuations in pressure and viscosity.
Applications
Dairy
Sauces & Dressings
Beverages, Wines and Beers
Cereals
Cakes and baked goods
Confectionery
Cosmetics
Pharmaceutical
Animal food & pet food
Laboratory
Chemical
Biofuel
Paints & Coating
Paper
Features and Benefits
Seal less design eliminates leakage
Drainability
Eliminates maintenance
Small footprint
Self-priming with strong suction lift
Low shear
More efficient
Ability to run dry
Saves costs
Ability to clear pipes
Maintains consistent performance over time
Easy integration
C & SLC Series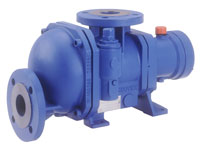 The seal-less C & SLC Series eccentric disc pumps feature superior volumetric performance. Unlike gear lobe pumps that lose efficient as they wear, Mouvex eccentric disc pumps sustains high efficiency levels over time, resulting in productivity gains and energy savings. Used in multiple fluid handling applications within the food and processing industries, Mouvex eccentric disc pumps can be flushed and cleaned in place without disassembly while completely maintaining gentle fluid-handling characteristics
Applications
Dairy
Sauces & dressing
Beverages, wines and beers
Cereals
Cakes and baked goods
Confectionery
Cosmetics
Pharmaceutical
Animal & pet food
Laboratory
Chemical
Bioful
Paints & Coatings
Paper
S & SLS Series
Designed specifically for hygienic applications, the S & SLS Series Eccentric Disc Pumps feature CIP and SIP capabilities, but can be cleaned by hand due to their quick and easy opening. The seal-less pumps feature a transmission mechanism protected by a tasteless, high-resistance elastomer sleev.
Applications
Dairy
Beverages
Confectionery
Cosmetics
Laboratory
Features and Benefits
Eliminates leakage
Pump product constantly renewed
Low shearing
Ability to drain pipes
Dry-run capabilities
Precise dosing
Outstanding volumetric efficiency
Maintains performance over time
Accurate volume metering
Self-priming with strong suction power
Reduce maintenance
Low linear speed