Victor Self Priming Pump
---
ปั๊มแบบหอยโข่ง (Centrifugal pump) ที่สามารถล่อน้ำในตัวเอง (Inherently designed self-priming pump) สามารถขจัดอากาศที่สะสมในท่อดูด (Suction pipe) ซึ่งขัดขวางหรือเป็นอุปสรรคในการดูดน้ำ หรือของเหลวอื่นๆเข้าตัวปั๊ม ลักษณะการออกแบบปั๊มจะทำเป็นกระเปาะ (Priming chamber) ทางด้านเข้าตัวปั๊มเพื่อให้น้ำขังใว้สร้างสุญญากาศในท่อดูดเมื่อเริ่มใช้งาน
ใช้ดูดน้ำจากที่ต่ำกว่าตัวปั๊ม ของเหลวที่มีเมล็ดของแข็งปะปน และของเหลวที่กัดกร่อนสูง Victor Pump มีความเชี่ยวชาญในการทำ Self - priming pump มีหลายแบบ หลายขนาด หลายวัสดุ มีให้เลือกใช้เพื่อให้เหมาะสมแก่งาน
Advantages of Self-Priming Centrifugal Pumps
Can handle a variety of liquids
Work well with slurries, corrosive liquids, and suspended solids
When compared to submersible-type pumps, self-priming centrifugal pumps will continue to pump liquids even after the pump is no longer submerged in a liquid tank or vessel
Ideal for frequent and intermittent pumping operations, as the steps involving pump priming on start-up are eliminated
Disadvantages of Self-Priming Centrifugal Pumps
Can't operate without the presence of the initial priming liquid in the pump's reservoir
Due to the need for a liquid reservoir, this type of centrifugal pump can be larger than a standard model, which may cause issues in applications where space is limited
Need to be as close as possible to production lines to avoid depletion of the pump's liquid reservoir during self-priming operation.
Close Coupled
S 80 G31T+F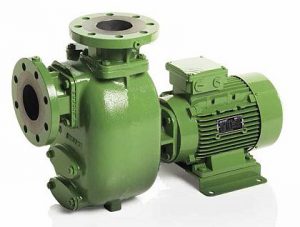 Cast iron pump with DN80 flanged ports and close coupled to the motor. Compact competitively priced and easy to use. Typically for non-heavy applications and intermittent use.
Bi-Block
S 41 K57BBDe+F+2A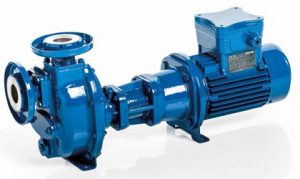 Stainless steel pump, width DN40 flanged ports, with elastic coupling mounted in the bracket with the IEC standard B5 motor.
Bi-Block on base plate
S 40 G312BBDe+F+B+2A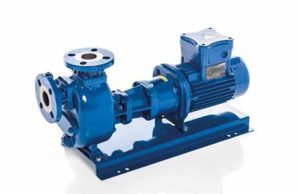 Cast iron pump with DN40 flanged ports, Bi-Block version with electric motor, on base plate. Easy to install, heavy duty and safe. For fixed stations and continuous use.
With hydraulic motor
S 51 K301SO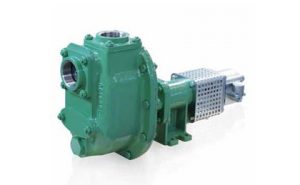 Stainless steel pump with 2" threaded ports ports. coupled to hydraulic motor. Normally used on trucks trailers.
Classic
S126 K312B+3A/XDe302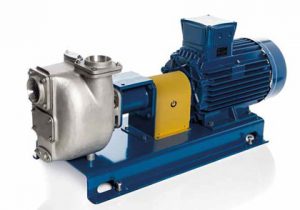 Stainless steel pump. with4" counter flanges for pipe welding. flexible coupling with guard and IEC standard B3 motor on baseplate. Traditional build. heavy duty for many applications.
Carrying frame
S 40 G31M+SB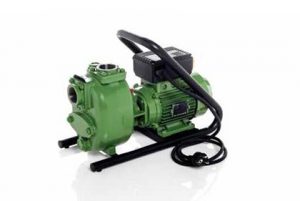 Cast iron pump with 1½ threaded ports, close coupled with 230 V single-phase motor; on/off switch, motor protection, and cable with Schuko plug. Mounted on a carrying frame: compact and transportable.
4-wheeled trolley for flat ground
S 66 K30BBDe+TV+SX+3A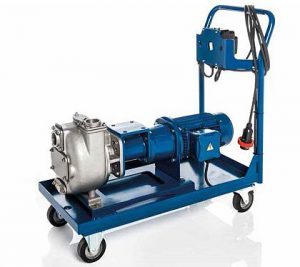 Stainless steel pump with 2" threaded ports, Bi-Block build with electric cable, on/off switch, with 4-wheeled trolley suitable for flat ground.