Blackmer เป็นผู้ผลิต Rotary Pump เช่น Twin Screw Pump, Triple Screw Pump, Multiphase Screw Pump และ Rotary Vane Pump สำหรับกระบวนการผลิต การขนส่งของเหลว ตามมาตรฐานอุตสาหกรรม และ API 676 เพื่อใช้ในอุตสาหกรรม น้ำมันและแก๊ส, โรงกลั่นน้ำมัน, ปิโตรเคมี และอื่นๆ
Blackmer, part of PSG®, a Dover company, is a global provider of innovative, high-quality industrial rotary pumps, including twin-screw, triple screw, and multi-phase screw pump, and rotary vane pumps for the safe and efficient transfer of liquids. Blackmer is proud to provide API 676 standard pump for oil and gas, refinery, and petrochemical services
This durable screw pump and rotary vane pumps line is perfectly suited to applications with the Process, Energy, Transport and Marine markets. Blackmer S Series pumps offer a wide range of highly customizable pumps and systems for the world's most demanding applications.
Twin Screw Pump Series
Blackmer Twin Screw Pumps are rotary, positive displacement pumps capable of handling various clean liquids that contain no solids. The pump is composed of two sets of opposed screws. During pump operation, the screws on the two shafts are engaged and form a sealed cavity with the surrounding pump casing. The pumped liquid is shifted axially as the screw shafts turn and steadily and constantly convey the liquid to the center of the pump where the discharge port is located. Since hydraulic forces on two screws are opposite and equal, the hydraulic axial stress on shafts is automatically balanced.
Twin Screw Pump S Series Ideally Suited for
Chemical
Caustics
Adhesives
Food and beverage
Soap
Petrochemicals
Acids
Polymers
Crude oil
Asphalt
Diesel
Seawater
Lube oil
Kerosene
Residuals
Bulk transfer
Loading / unloading
Terminals
Shipping
Bilge and ballast
Fire - suppression
Blackmer Triple Screw Pump
The S Series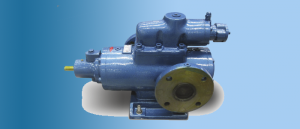 Triple-Screw Pump manufactured by Blackmer is a type of positive displacement rotatory pump for handling clear, lubricating liquid without solid content. The internal structure of the Triple-Screw Pump includes a male drive spindle, two female secondary spindles and the case that holds the three screws.
The sealed chamber moving at a uniform speed is formed between the case and the three rotating screws along the axial direction. During the male drive screw rotation, liquid moves in the sealed chamber along the axial direction continuously and smoothly from suction to discharge.