Industrial damper
TS Nexgen เป็นผู้ผลิดวาล์ว (Damper) เปิดปิดระบบท่อลมหรือท่อแก๊ซที่มีชื่อเสียงจากเกาหลี มีใช้งานในอุตสาหกรรมทั่วโลก Damper เป็นอุปกรณ์ที่จำเป็นเพื่อตัดแยกอุปกรณ์จากระบบเพื่อการซ่อมบำรุง หรือควบคุมการใหลเข้า-ออกจากอุปกรณ์ Damper มีใข้ทั้งการควบคุมการไหลหรือเปิดปิด มีหลายชนิดตามการชนิดใช้งาน เช่นแบบ Louver, Guillotine, Diverter, Slide gate, Flap, Tandem, Poppet, Wafer, Ventilation door, By pass, Stack
 ใช้ในโรงงานผลิตไฟฟ้า โรงกลั่นน้ำม้น โรงปิโตรเคมี โรงงานเคมี โรงเหล็ก โรงงานกระดาษ และโรงงานประเภทอื่นๆ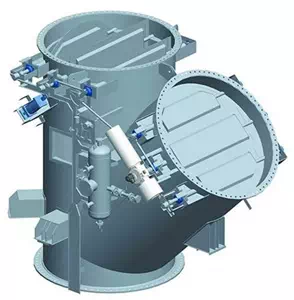 Single Louver Damper
Single louver damper isolate or controls air/gas. It can be operated with manual handle, pneumatic actuator, electric actuator or electro-hydraulic actuator as per customer's requirements. TS NEXGEN has delivered our single louver dampers for a of thermal power plant projects and especially our bias dampers, large-sized special dampers, heve benn favorably accepted by our customers.
Double Louver Damper
TS NEXGEN's double louver damper which looks a combination of two single louverdampers can individualy operate by two actuators and it can reach 100% gas tight with seal air system.
Double louver dampers are mainly used for FGD or SCR system that require zero gas leakage for safety of personnel and have enough room to be installed.