Mixed and Agitator เครื่องกวนผสมสารเคมีแบบใบพัด
Hado เป็นเครื่องกวนหรือผสมสารเคมีแบบใช้ใบพัด (Agitator) และแบบไม่ใช้ใบพัด (Static Mixer) ผลิตภายใต้ลิขสิทธิ์ของ Satake Chemical Equipment Mfg., Ltd. ประเทศญี่ปุ่น ใช้ในอุตสาหกรรมต่างๆ ทั้งขนาดเล็กและขนาดใหญ่ สามารถใช้ได้กับงาน ปิโตรเคมี สารเคมีทั่วไป โรงงานกระดาษ โรงงานอาหาร ผลิตยา การบำบัดน้ำเสีย เหมืองแร่ โรงงานผลิตกรดและด่าง มีทั้งแบบกวนด้านบน (Top Entry) กวนด้านข้าง (Side Entry) กวนด้านล่าง (Buttom Entry) และแบบพกพา (Portable Type)
Hado mixers/ agitator is a Korean manufacturer has technical collaborated with Satake Chemical Equipment Mfg., Ltd. provide dynamic mixer or agitator such as top entry mixers, side entry mixers, bottom entry mixers, portable mixers/ agitators, line mixers, super shear mixers, emulsifiers and dispensers for industries.
Its application are for refinery, petrochemical, chemical, food, pharma, power, mineral processing, pulse and paper, phos acid, paint and coating, and water and waste water treatment. Hado also collaborated with Sakura Seisakusho Ltd. from Japan to produce various type of static mixers.
Portable Mixer A-Series
Clam-type mixers are ideal for small lot production. These are compact and lightweight, low-priced, quality-enhanced, and maintenance free. They are also readily available.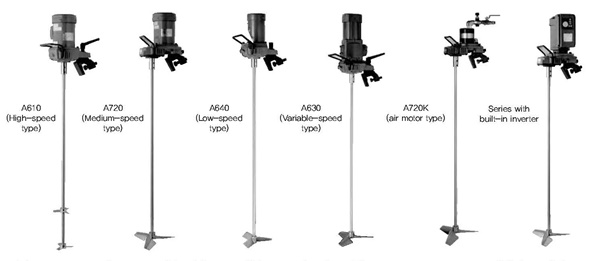 A610 (High-Speed Type)
Delivers maximum performance in applications wher high shearing is required or where powdery substances must be forced into liquids for dissolution.
A720 (Medium-Speed Type)
It is suitable for mixing small and medium-volume liquids, Also, it is ideal for mixing ordinary soluble liquids, liquids for dilution and heat transfer, relatively easy to dissolve solids and liquids, dispersion, prevention of slurry setting, and uniform mixing.
A640 (Low-Speed Type)
It is best suited for mixing liquids of relatively viscous liquids or for mixing in which foaming must be avoided
A630 (Variable-Speed-Type)
It is capable of coping with changes in liquid viscosity, preventing excessive or insufficient mixing. Since the mixer can be operated at low speeds, operation can be safety performed while discharging the liquid from the tank.
A720K (Air Mode Type)
The A520K driven by the air motor features a safe, explosion-proof construction. It is available with various values for rpm ranging from low rpm values to high rpm values and eliminates problems, such as, motor burning and heat generation, even when it is overloaded.
A760 (Medium-Speed Type)
Mixers are made of stainless steel to protect the product from rust and paint. It is ideal for fine chemical, pharmaceutical, and food processing applications.
Multi S Mixer (S0 ~ S2 Series) Top-Mount Type
Compaxt mixers in a wide range of variations (from 16.5 to 350rpm)
Features
All mixer speeds are based on the AGMA so that the mixers deliver maximum performance.
A high level of accuracy is achieved by the combination of high-precision pinions and bakelite gears, resulting in reduced Operating noise.
The V-belt employs saw-tooth-shaped cogs for improved bending and shows approximately 30% better transmission performance than conventional V-bels
New impellers have been developed for HADO multi-S mixers. The medium-speed-type mixers come with the HR700 impeller, and the low-speed-type mixers come with the HR600. Both types features substantially improved mixing performance.
Side Mount Type
Valuable, compact and lightweight side-mount mixers to choose from by the drive method.
Features
The side-mount type is suitable from mixing liquids of medium or low viscosity in a deep tank.
Though this type is compact and lightweight, it can perform partially strong agitation as it can be mounted in the chosen position.
By mounting the mixer on the tank in an off-set position, the affecting the steady flow of liquid.