Eltacon is an ISO 9001 and ISO 14001 certified engineering contractor. Over the years, we have obtained an excellent reputation in the design and fabrication of skid mounted systems according client specification.
Eltacon is specialized in the design and manufacturing of gas compressors and gas treatment systems as well as design services for the petrochemical and related industries.
Gas Compressor Packages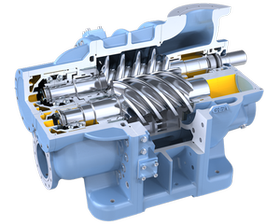 We supply gas compressor packages in a wide range of alternative executions, all based on oil-injected twin rotary screw compressors.
The choice for this type is based on the better economics and the higher compression ratio of the oil-injected screw compared to oil-free screw compressors.
We have delivered gas compressor packages for power plants up to 200 MW (based on 2 up to 4 gas turbines)
The "typical" gas compressor range of Eltacon:
gas inlet between 1 bara & 24 bara (14,5 psia and 350 psia)
gas outlet pressures up to 60 bara (870 psia)
pressure ratio from a minimum of 1,2 up to approx. 22 (pending nature of gas) with a
"swept" volume up to approx. 6.000 m³/h
installed motor power up to 2.500 kW
Furthermore Eltacon is experienced in designing and manufacturing units suitable for a wide range of environments, ranging from artic to desert or off-shore conditions.
Fuel Gas System
Eltacon Engineering supplies gas filter units in a wide range of executions; all based upon ELT filter elements ELT-110, ELT-120 (both coalescing filters) and ELT-315 (particle filter) in three basic configurations.
Typically the gas flow ranges
From 2.000 to 15.000 nm3/h for (single) turbine outputs from 5 to 60 MW.
Up to 30.000 nm3/h for power plants up to 200 MW (with 2 up to 4 turbines).
Eltacon designs and fabricates air compressor packages using oil-flooded and oil-free screws. Driven by E-motors, diesel- or gas engines as well steam turbines.
We supply air compressors for utility air, instrument air systems, as well as back-up systems.