Progressive Cavity Pump, PC Pump, Single Screw Pump
ปั๊มแบบสกรูเดี่ยว หรือ ปั๊มแบบเกลียว หรือพีซีปั๊ม หรือปั๊มเดือยหมู
พีซีปั๊มถือเป็นหนึ่งในชนิดหนึ่งของปั๊มปริมาตรคงที่ต่อรอบที่หมุน (Constant volume Pump) ในตระกูลพีดีปั๊ม (Positive Displacement Pump, PD pump)
พีซีเป็นปั๊ม ที่มีชื่อเรียกหลากหลาย ขึ้นอยู่กับความเคยชินของผู้ใช้ เช่น ปั๊มสกรูเดี่ยว ปั๊มเดือยหมู ปั๊มงู ปั๊มโมโน ปั๊มมอยโน หรือพีซีปั๊ม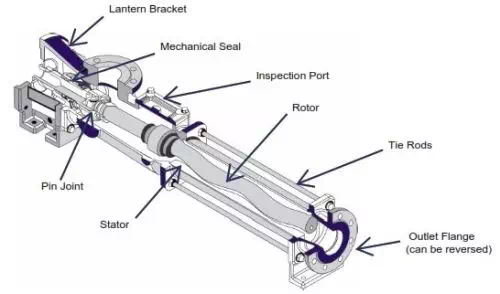 ใช้หลักการของการขับเคลื่อนที่ของสารที่จะปั๊มหรือเคลื่อนย้ายผ่านสเตเตอร์ของตัวปั๊ม (Stator หรือ Casing) ซึ่งเป็นวัสดุทำด้วยยางขนาดยาว วัสดุที่เป็นแกนหมุน (Rotor หรือ Screw) ทำด้วยโลหะ การเคลื่อนจะเป็นในลักษณะการก่อให้เกิดช่องว่าง (Cavity) ในตัวปั๊มในระหว่างการหมุนแต่ละรอบ และเกิดทำการบีบอัดโดยการหมุนของตัวสกรู (Screw rotor ซึ่งทำด้วยโลหะ) เกิดสลับกันไป ทำให้ของเหลวถูกดูดเข้าสู่ภายในช่องว่างในตัวปั๊ม (Inlet, Cavity) ตัวโรเตอร์ซึ่งรับกำลังจากมอเตอร์ ผ่านเฟืองทด (Gear drive) ผ่านข้อต่อ (Coupling) ส่งกำลังแบบ Universal joint โรเตอร์จะมีการเคลื่อนใหวขึ้นลง (Up and down) เป็นการบีบและคลาย (Squeeze) เพื่อดันของเหลวไปทางช่องออก (Outlet, Stator ซึ่งทำด้วยยาง) ด้านหน้า
พีซีเป็นปั๊ม ใช้ในการขนส่งของไหล วัสดุหนืดๆ และวัสดุหลายสถานะ (Multi phase) จากความหนืด 1 Cst – 1 MCst.
ลักษณะพิเศษของ พีซีปั๊ม คือ
1. The volume of liquid pumped is proportional to speed providing a linear predictable pumping rate across a range of pressures. It can transport almost any substance continuously, at a constant pressure, gently and with low pulsation. Whether it is wastewater sludge, chemicals, slurries, adhesives, oil or shear-thinning non-Newtonian fluids.
This technology delivers one of the highest flow and pressures available from a positive displacement pump being up to 600 M³H and 48 bar, with efficiency ranging from 55% to 75% with flow rates from 0.3 m³/h up to 150 m³/h. This technology is most suited for fluids more viscous than 5 Cst.
2. A pumps pressure generating ability will depend on the number of cavities within the pump, with high pressure designs often consisting of more than one stator and rotor. Each rotor will typically produce 6 bar enabling pressures up to 48 bar to be achieved through its modular design.
3. Rotors are usually a range of metals from cast iron, and tool steel, to stainless steels and duplex's which at times are hardened to cater for aggressive and/or high-pressure applications. Hollow rotors allow for higher operating speeds, long life spans, produce low vibration and near silent running.
4. Stator designs consist of two types - equal and non-equal walled. Equal walled stators ensure a lower starting and running torque, lower pulsations and reduced power consumption, high volumetric pumping efficiency, and lower replacement costs. Materials are usually types of rubber being NBR, FKM but not PTFE meaning solvents cannot be handled.
พีซีเป็นปั๊ม บางครั้งใช้แทนคอนเวเยอร์ (Conveyor, Screw or Belt conveyor)
Food Grade Progressive Cavity Pump
Food hygienic screw pumps are suitable for products in food, pharmaceutical, cosmetic and other industries with high hygiene requirements
ชิ้นส่วนต่างๆของพีซีปั๊ม
(Disassembly of Progressive Cavity pump Parts)
Rotor: according to the media characteristics, there are a variety of materials to choose from (304, 316L)
Stator: the stator rubber sleeve material can be selected from a variety of rubber materials such as nitrile rubber, fluorine rubber, EPDM rubber, super abrasion-resistant rubber, food-grade rubber, etc., which is able to meet a variety of abrasive, corrosive, high-temperature and other harsh working conditions.
Universal joints: rubber sheath on the outside, grease lubrication on the inside, national standard cross shaft structure, high transmission torque, high reliability, long life, easy maintenance.
Shaft seal: packing seal, single-end mechanical seal, double-end mechanical seal and other sealing methods, and packing seal and single-end mechanical seal can be interchanged.
Inlet chamber and outlet short connection: there are various materials for choice, and the inlet chamber can realize the direction of upward, leftward and rightward interchangeable, the installation mode is more flexible.
Bearing housing or support frame: when the reducer and pump are connected by coupling, the bearing housing structure is adopted; when the reducer and pump are directly connected, the support frame structure is used.
ความแตกต่างของการใช้งานของพีดีปั๊ม
Pc pump vs gear pump vs screw pump
PC Pump
Gear
Screw
Handle Solids. Non-Clog design
Not designed for particles. Accelerated teeth wear with even small particles
Typically designed for clean fluids
Self-Prime up to 8M
Self-Prime up to 8M
Self-Prime up to 7.5M
Handle up to 1M Cst
Up to 55,000cst
Up to 15000cst
Up to 48bar
Up to15bar
Up to 120bar
Mechanically Sealed or cartridge seal
Magnetic coupling or Mechanically Sealed
Magnetic coupling or Mechanically Sealed
Not suitable for solvents
All metal parts means solvents can be transferred, although some designs may have bearings within liquids and should be avoided
All metal parts means solvents can be pumped.
สมรรถนะของพีซีปั๊ม (Pump curve)
PC Pump curves are different to a centrifugal curve as it is linear demonstrating the unit ability to handle liquids of varying viscosities with little impact on pump performance, with the bottom axis being speed rather than flow as flow is proportional to speed. Unit speed is much lower than centrifugal, operating from as little as 50 rpm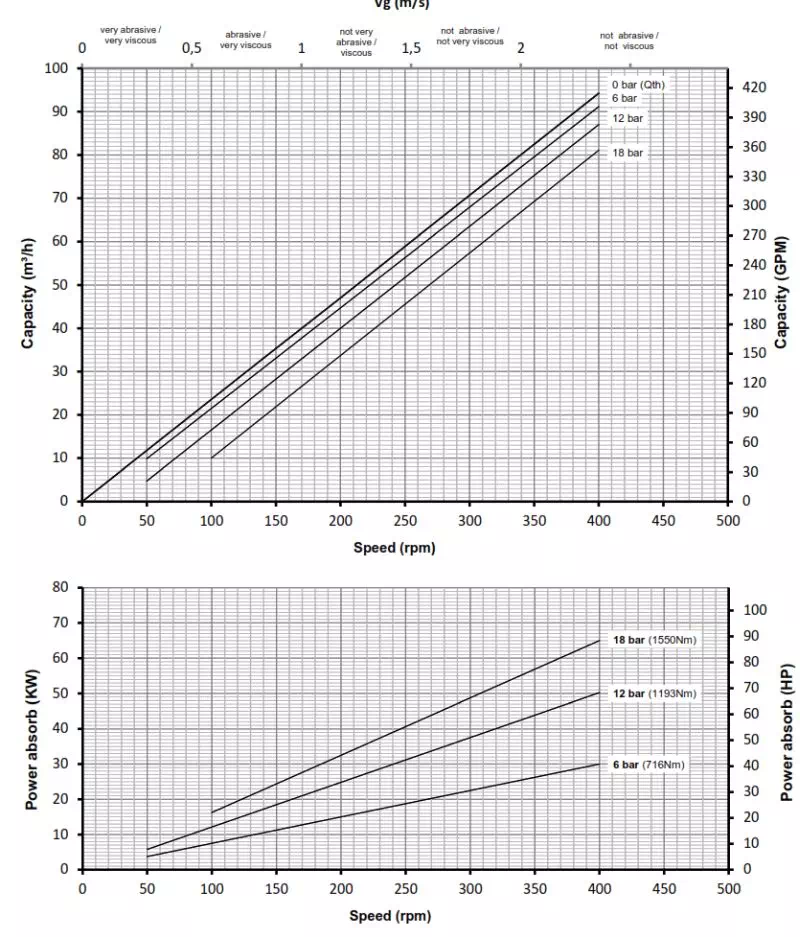 เหมาะอย่างยิ่งกับการใช้งานกับของเหลวที่มีความหนืดมากๆ หรือของเหลวที่มีอนุภาคของแข็งปะปน เช่น อุตสาหกรรมอาหาร น้ำปูน น้ำดิน โคลน กระบวนการผลิตไบโอดีเซล ไบโอแมส เอทธานอล และกระบวนการบำบัดน้ำเสีย เป็นต้น เสื้อปั๊ม (Pump Body) มีวัสดุให้เลือกใช้คือ Stainless 304/316 และเหล็กหล่อ (Cast Iron G25) จุดต่อกับชุดเกียร์มอเตอร์ (Coupling) มีให้เลือกใช้ทั้งแบบ Bearing แบบใช้พลังไฮดรอลิค (Hydraulic)
ข้อดีของพีซีปั๊ม
Low pulsating flow - Due to its rotary motion at low rpm, flow pulsation is limited with low amounts of acceleration head produced. Coupled with even wall design of stators and long pitch rotor design reduce pulsations further.
Low shear - Ensures gentle handling of the most difficult to pump fluids such as resins, viscous foods, oil and water emulsions without change in consistency to the liquid. They are often use in oily water separators as the design ensures oil droplets remain intact and was rated by SPE (Society of Petroleum Engineers) in Paper SPE18204 as the preferred pump to use for oil droplets which were disturbed the least during handling and a comparison of lobe, vane and screw technology.
Reversible – Units are reversible with reduced output pressure as standard meaning hoses can be emptied, or if blockages are encountered pump can be reversed to assist with clearing. It also enable the pump to be versatile for situations such as tanker loading and offloading.
Wide fluid handling capabilities – Designs can handle viscous liquids, large solids, abrasive materials, fibrous solids and gas slugs without issue making it one of the most versatile pumps available. This design has Unparalleled Viscosity handling viscosities from 1cst to 1Million means there are no comparable pumping technologies.
Self Priming – Due to the tight tolerances in its construction, it has high suction capabilities priming up to 8M, with a corresponding low NPSH. Designs are available which can withstand gas slugs for up to 30 minutes.
High Accuracy – Due to flow being directly proportional to pump speed, and due to its cavity design, it enables flows to be very predictable enabling it to be used in metering and dosing applications
High Flows – Flows of up to 600M³H can be achieved due to rotary positive displacement design which is second only to large screw pumps
High Pressure - Producing pressures up to 48 bar makes this one of the highest pressure producing PD Pumps.
โมเดลต่างๆ
Eccentric screw pumps are available in a multitude of designs dependent on the application. Variants include:
Hopper Pump – A pump is fitted with a hopper of various designs, designed for viscous liquids, materials containing high amounts of dry matter, large solids requiring breaking up and materials which plasticise
Food – Models of hygienic construction, with materials specified in accordance with 3A, or EHEDG for ease of cleaning. Units can be trolley mounted for relocation between processes.
Macerator – Inline grinder to macerate solids before entering the pump.
Vertical Immersion – Designed to be immersed in the fluid such as in tanks eliminating NPSH issues, as units can be accepting of an NPSH as little as 0.5M (canned design) making them ideal for open or closed drain applications.
Multiphase Design - Baseplate mounted unit for multiphase boosting, with accessories allowing pump to handle viscous oil, gas slugs, sand and water, with automatic remote operation.
Wobble – Wobble pumps are like a small pc pump but are of single joint design meaning the internal rotor does not rotate in 360° motion but wobbles.
Units can be further configured through the use of accessories, and in construction by being close coupled in design, having a separate bearing housing for demanding applications, and modular bearing design for the longest bearing design life.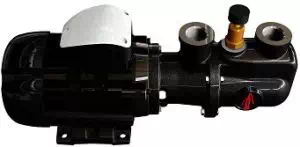 Types of Hopper Design:
The inlet of such pumps can be fitted with a hopper for the conveying of viscous fluids. Options include:
Bridge Breaker – For the breaking up of large solids within dehydrated sludge. Motorised paddles rotate within the hopper ensuring particles are broken into sizes which can be accommodated by the pump preventing blockages

Combined Bridge breaker and auger feed – As above combined into one design for the most viscous and solid laden fluids
Motorised wheel – Feeding of liquids with high dry solid content and materials which plasticize into the main pump. When materials such as liquid mortar, resins, mud, blocks of fat, or butter are pumped they can plasticise meaning they change shape rather than break up. To ensure they are fed into the rotor and stator, a motorised wheel ensures materials are broken up when other technologies may mean materials clog.
Liquid injection port – Typically used for the biogas sector, this unit has a separate injection port for accepting liquid manure which is combined with materials in the inlet containing high dry solids content (such as digestate, straw, corn, grass, rye, vegetable and food waste ) ensuring pumpability.
Customisable Hopper – Shape is designed to match pipework being either circular or rectangular.
Accessories
Pumps are available with a variety of accessories to ensure suitability for your process:
Dry Run Sensor - Prevents the dry running of stators through the use of a PT100 temperature probe sensing when temperature of stator is over a set temperature and stopping the motor.
Product Sensor - Automates the pump to switch on when product is sensed in the hopper or pump inlet.
CIP Connection – For ease of cleaning in between batches or changes in fluids.
Heating Jackets - Both hopper and stator can be fitted with heating jackets ensuring solidification of material does not take place.
Pressure switch – to control pump based on inlet pressure
Pressure relief valve – May be fitted on pump or externally on pipework to prevent the build up of excess pressure which can damage pump or system.
There are a range of symbols that can be used to symbolise Progressing Cavity Pumps in Process and Instrumentation Drawings
ตัวอย่างวัสดุที่ใช้ในการก่อสร้างพีซีปั๊ม
Pump Materials

Cast Iron GG25
Bronze
Stainless Steel (AISI 304 & 316)
F55 Super Duplex
ECTFE Fluoropolymer Coatings on request.

Rotors

AISI 420 & Induction Hardened AISI 420
Stainless Steel AISI 304 & 316
F51 Duplex & F55 Super Duplex
Special coatings are also available such as HCP (Hardened Chrome Plated), Ceramic & HVOF Tungsten Carbide

Stators

NBR, Food Grade NBR & Food Grade White NBR
HNBR & Food Grade HNBR
Buna-N (Select models)
EPDM, Food Grade EPDM & Food Grade White EPDM
FPM & Food Grade FPM
Silicone
Hypalon (Select models)
PTFE (Select models)
มาตรฐานทางวิศวกรรมในการสร้างพีซีปั๊มและประกาศนียบัติ (Rotors Standards & Certification)
Quality control use ISO 9001:2015 and OHSAS 18001:2007 Quality Management Certificates. Their full range of Progressive Cavity Pumps has been designed and manufactured according to the highest standards and are distributed globally to a variety of challenging applications within industries such as wastewater treatment, oil and gas, industrial, oenological, pharmaceutical, food and beverage. The entire range can also be ATEX certified and is API676 Compliant. The DX & JX series are also provided with EHEDG, 3A & FDA Certification.
ประโยชน์ของพีซีปั๊ม Benefits of progressive cavity pumps
Continuous, low-pulsation handling of even high-viscosity liquids: The even rotation of the rotor avoids sudden pressure changes.
Gentle handling of media with a high solid content: There are only low shear forces in the conveying space between rotor and stator.
Great dosing precision: Depending on the speed, the pump capacity can be determined exactly for progressive cavity pumps.
Easy reversing of the direction and conveying direction
High suction capability even with high gas content (up to 9 mWs)
Large free ball passage: High permissible diameter for solids prevents clogs
Low life-cycle costs thanks to long service life and maintenance intervals
ข้อได้เปรียบในการใช้พีซีปั๊ม Advantages of Progressive Cavity Pump
Uniform flow which is proportional to the speed of rotation
Suitable for low NPSHa & suction lift (up to 8 m) applications, dependent on size, number of stages and speed
Able to handle shear sensitive and heterogeneous fluids containing gases, solids, abrasive particulates & fibrous materials
Pump both low and high viscosity fluids
Use for low flow and dosing applications
Wide Temperature range from -40ºC to +150ºC
Low pulsation with minimal impact on the process media
High discharge pressures, up to 48 Bar (6 Bar / Stage). Units are available with 1 – 8 stages
Reversible Operation, effective up to 12 bar
Pumps can be manufactured to meet a wide variety of materials available meaning pumps can be specifically catered to individual applications
Pin Joint design which provides increased solids passage & protection as well as high reliability & operational life span of up to 8000 hrs before maintenance or failure.
บริษัทไอคิวเอส เป็นผู้แทนจำหน่ายพีซีปั๊มแบรนด์ซับเตอร์ (Subtor) จากเยอรมัน ซึ่งเป็นแบรนด์ชั้นนำ มีชื่อเสียง มีใช้งานทั่วโลกและในเมืองไทย บริษัทไอคิวเอส ยังสามารถจัดหา PC pump ตามความเหมาะสมกับการใช้งาน คุณภาพ และราคาตามที่ลูกค้าต้องการ
ซับเตอร์ยังสามารถทำปั๊มใหม่สำหรับโครงการก่อสร้างโรงงาน และสามารถออกแบบ (Re-engineering) และทำอะไหล่เพื่อทดแทน (Replacement) ปั๊มเก่าของแบรนด์อื่นที่ลูกค้าใช้งานอยู่ โดยทางซับเตอร์ รับประกันสมรรถนะและคุณภาพการใช้งาน
บริษัทไอคิวเอสมีวิศวกรที่มีความรู้ ความชำนาญ และประสบการณ์เพื่อให้คำปรึกษา ในการเลือกชนิด (Type)  ขนาด (Size) และกำลัง (Rating) ของปั๊มที่เหมาะสมแก่การใช้งาน  และได้รับการสนับสนุนทางเทคนิคจากบริษัทผู้ผลิตโดยตรง
บริษัทไอคิวเอสมีพีซีปั๊มให้เลือกหลายแบบ หลายขนาด หลายวัสดุ หลายวัสดุตามแต่การใช้งาน มีหลายแบรนด์ และหลายราคา
สนใจสินค้า ขอคำปรึกษา ติดต่อ บ. อินทีเกรทเต็ด ควอลิตี้ เซอร์วิสเซส จำกัด